Travel to Gori
Stalin Monuments in Gori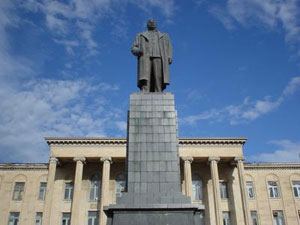 While in the rest of the former USSR all the Stalin statues (as opposed to the Lenin statues that still stand there) were pulled down already in the 50ies (Chroetsjov period) in Georgia there are still quite a few left. The hard Soviet dictator, originally named Joseph Vissarionovich Djugashvili was actually born in Georgia. This explains both the statues and the still burning love that many georgians feel for the Georgian that made it in the big Soviet. Gori is Stalin's birth town and the major destination for a Stalin pilgrimage. The following monuments and statues remind us of the cruel ruler that here saw the daylight for the first time :
There is one Stalin statue on the main square of Gori.
Stalin museum, birth house and train : a museum complex entirely dedicated to the local god Stalin, including his death mask, can be visited at a cost of 0.6 lari, guide 2 lari. The museum sells a variety of Stalin gadgets, badges and post cards. The museum is interesting and the having a guide gives extra value to the visit, if only to get a chance to ask questions to somebody with a still untouched admiring of Stalin. Open 10-17, monday closed, phone 22681.
Stalin statue and poster in the train station : for a good start to a visit in Stalin's birth town you best arrive by train in Gori; in one of the departure halls of the station stands a Stalin statue and on the platform hangs a big colour poster of Stalin above the arrival hall.
World war II museum : About halfway along the park between the Stalin statue and his birth house is the WW II museum, recognizable on the wall with soviet sculptures.
Sculpture of the young Stalin : at Stalin'sschool is another sculpture of a very young Stalin.
Stalin freaks should also go to the little village Achalsopheli (bus Marthopi) in the area of Tbilisi where another private Stalin museum is situated.
More information about Stalin : in the Medcinski University in Tbilisi Prof. David Gegeshidze is studying the fenomenon Stalin, the political Stalin-party to where a few of Stalin's family members belong has a party building right next to Stalin's birth house.



sights in Gori
Fortress of Gori : the ruin is situated on a hill top not far from the centre of Gori. It can easily be seen from distance beautifully guarding above Gori. Climbing the hill is actually only worth it for the view, inside the fort walls is nothing else to see than grass.
Gori market : there is a daily big market next to the bus station, lots of women dressed in Meghrelian straw hats.
Monastery fort : situated on the green hill north west of Gori, visible from the bus station.
Restaurants: cafe Elita, ulitse Tchitadze has tasty and cheap food in an atmospherically decorated cellar close to the fortress and the church.
Budget hotel - hotels in Gori :

Gastinjitse next to the bus station : a very worn out hostel that is half full of refugees. Dirty toilets and no water but very cheap, 2 lari per night, but you better put your own lock on the door.
Hotel Intourist : Stalina 26, along the park between the Stalin statue and Stalin's child hood home. No telephone, beautiful foyer, water, electricity and shower but over priced, 40-60-80 lari per double room per night.

Travel by public transport : every hour there is a bus from Gori to Tskhinvali and even more frequent to Tbilisi. To get to Gori you can also catch a bus Tbilisi - Kutaisi, but then you get dropped off along the big road 4 km from Gori itself; From there you can catch a taxi but don't pay more than 2-3 lari although they will try to get 5. Gori - Tbilisi : 1hour 20min, 2.5 lari.
travel to Uplistsikhe
Uplistsikhe cave town : together with Vardzia and David Gareji the most important city completely carved out of rocks, with houses and a monastery from the 8th century. Tickets sold at tourist prices (1$ student, 3$ normal, 10$ with guide. If you go in without guide they follow you anyway and you can bargain to 5 lari, lots of school groups in june.
By public transport from Gori to Uplistsikhe : there is a train at 10.20am from Gori; the train returns at about 17:00. There are also over crowded busses from Gori (leaving 9am, 12am; returning 15am, 45min, tickets cost 0.7 lari). Taxi Gori-Uplistsikhe costs 15 lari.