Senegal Travel Guide
General information
- transport
: you almost always will have to bargain over the luggage fee when taking bush taxi's as starting price is mostly double than what it should be. Ask your fellow passengers how much they pay.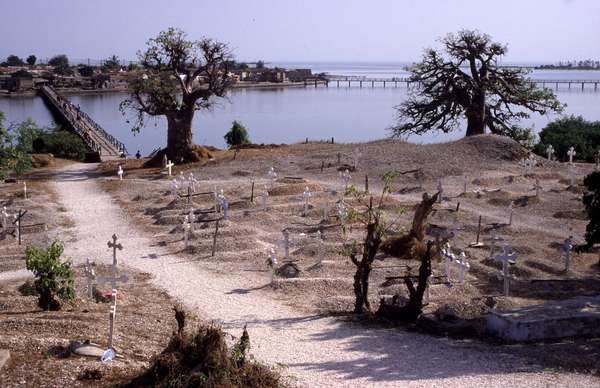 - internet
: prices vary extremely from city to city !! In St. Louis (and Dakar) we found a place at 250CFA per hour, in Zinguinchor it was 1000 CFA per hour, in Tambacounda 2000 CFA and in Kedougou they asked 2500 CFA per hour ! Connections are generally good.
- cost
: Senegal is quite expensive and you probably will need 15 euro per person even when staying in the lowest budget accommodation and hotels and hotels.
- money
: Mastercard does not works on most (at least all the ones we tried) ATM's. Better to have VISA, sometimes Cirrus did work as well. With Mastercard you can get a cash advance in some of the Western Union offices. Although the CFA is pegged to the euro at a rate of 656 CFA per euro, there is some kind of a black market. If you try hard you should be able to find places where they give you 670CFA for a euro (we did not succeed in doing this in Senegal, but got this rate in Guinea Bissau, see the Guinee Bissau report for more info).


Land border Rosso with Mauritania to St. Louis
- See my
Mauritania Travel Guide
for more information on Mauritania.
- sept place Rosso – St. Louis
: 1500CFA pp + 250CFA luggage fee


Saint Louis
- money : you can change cash in shops in the old town at 640CFA per euro, on the modern side of the bridge there are two banks with ATM.

- internet : quite far North in the Rue de France on the old island there is an internet café on a corner which charges only 250CFA per hour, below auberge de l'ile there is another one at 500CFA per hour.

- accommodation and hotels
* Auberge de l'ile, 12800CFA/dbl (you can bargain down to 11000CFA), this was the cheapest hotel close to the bridge on the historic island. We took it because we were too tired to search any further, but we moved quickly out the next day as there is a noisy bar on the first floor which makes the hall full of drunk people and prostitutes using the hotel toilets, the sheets were not clean, the rooms dark with ventilator and most of the day there was no running water. Not recommended !
* home stay : there seem to be quite a lot of home stay options on the historical island. The pushy guides mostly have no room to rent of their own, but can bring you to a family which offers a room. This way we found a very nice family which we payed 7000 CFA for a double room with shower. Other guides quoted 5000 CFA for a room.
* La Louisiane, next to La Saigonnaise, 18000CFA/dbl, T 9614221, has a wonderful flowery garden with magnificent views over the water, very clean and nicely furnished rooms with mosquito net, balcony, breakfast and clean shower in the room, very cosy and romantic place. Probably the best place in town to stay (we visited about 20 guesthouses). It seems also a good idea to make a reservation in advance. You can also just come over for breakfast (1500CFA for non-guests) to enjoy the views from the terrace.

- food :
* if you just arrive in the country you will still pay 2000CFA for the "traditional dish" maffe (rice and peanutsauce) in Linguere, a touristy "typical local" restaurant in the old town island. On the other side of the bridge in the new town you will pay 500CFA for the same. After a few weeks Senegal you will surely be very tired of maffe, so don't hurry.
* La Saigonnaise : has a very nice terrace with definitely one of the best views on the island, dishes 3000-4000CFA.
- transport :
* the gare routiere lies about 7km away from the bridge, for 400CFA a taxi will bring you there.
* Saint Louis – Dakar : taxi brousse, 4.5h, 2700 CFA


Dakar
- transport
* Dakar – Zinguinchor
: by ferry is no longer possible, MS Le Joola sunk on 18 September 2002 and 970 people died at this disaster.


Dakar to Gambia
Banjul to Kaolack takes about 3.5 hours. See my
Gambia Travel Guide
for more information on The Gambia.
- Thies – Kaolack
, bush taxi, 2000CFA + 150CFA luggage, 2h15
- Kaolack – Karang
(border with Gambia), bush taxi, 1700 CFA + 250CFA luggage, 1.5h, there are no bush taxi's direct to Banjul, although they will say they are going to Banjul.
- Senegalese border :
* get your
stamp
in the office, and hurry back in the taxi which drives you the last two kilometres to the Gambian border office
* you can
change
a bit of CFA into Dalasi on the black border market, rates are quoted for 5000CFA (when we were there you got 240D for 5000CFA)
- Gambian border :
* this border is
very busy
, even in the evenings. If you are going in the other direction (Gambia to Senegal), the bush taxi will not bring you to the Senegalese border, so you will have to pay 250CFA/15D for a seat on the back of a motorbike which will bring you to the Senegalese bush taxi garage, which lies in between the two borders. You could also walk the 2km or so, but don't walk too far, as the garage where you have to take your taxi to Kaolack is *before* the Senegalese border post.
* Most Western visitors
don't need a visa
(except the French which have to pay 350D or so); the border guards ask you how long you will stay (there are free visa of 1,2,3 and 4 weeks) and writes this amount of days in on your visa stamp; be sure to take some reserve ! They also ask in which hotel you will stay.
- Gambian border – Barra Ferry to Banjul
: 22km
there are several transport possibilities, less in the evening, the road is in bad state, so it takes about 45 minutes to cover the 22km.
* bus
: cheapest, but fills very slowly up; in the evening there are no more busses
* bush taxi (Peugeot 504)
: 18D pp, leaves when there are 7 passengers
* yellow taxi
: these private drivers can be a bit pushy, negotiate a price knowing that a bus taxi leaves when it has 7 passengers or about 140D. The yellow taxi should not cost more than this. Don't believe them if they try to hurry you saying that the last boat is at 7pm, the last boat leaves in Barra at 10pm (or 11pm).
- Ferry Barra to Banjul
* the
ferry terminal
is behind the barracks next to the taxi station, count on 15 minutes to get to the ferry and pay the 10D, be careful for the police as I had to pay "something" because I could not show them my yellow vaccination card (whish was in the hotel). "Health is important in our country", said the officer and he was happy with the 10D I gave him.
* keep your ticket
till the end as it will be checked before you leave the port !
* the ferry is supposed to
leave every hour
(7am, …, 22pm), count on 1 hour to get to the ferry from the border
* it takes about
half an hour to cross
* if you are in a hurry and have enough budget, you could also
rent a huge pirogue
, which will bring you to the other side for 600 D (I did it as guest of some expats)


Casamance - Zinguinchor
- mosquitoes
: there are lots of mosquitoes in Casamance and the cheap hotels have no mosquito nets … so be prepared !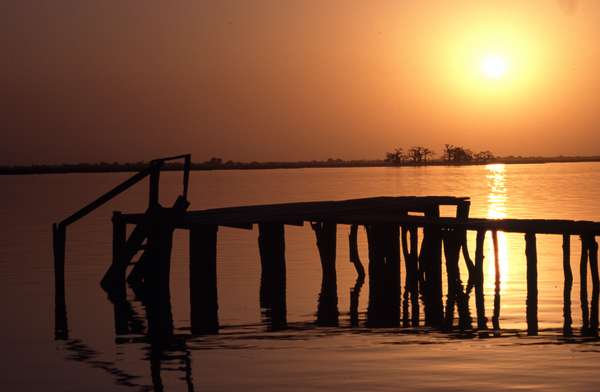 - visa Guinea Bissau
: costs 5000CFA (currently twice as much as in Gambia, though this might change). See my
Gambia Travel Guide
for more information how we got the Guinee Bissau visa. The practical details of our adventures in Guinea Bissau are on
Guinea Bissau Travel Guide
.
- accommodation and hotels :
At the bus station you will be met by very persistent hustlers, you will not be able to get rid of them, so it is better to get out of the station (with one of them) and pay him his 500CFA commission for his "help" and to leave you alone or if you really want to play his game, go to the hotel which he proposes and where he gets his commission.
* Hotel du Tourisme
: gives no commission to hustlers (so they will ask for their 500CFA), 8200CFA/dbl, old but spacy rooms full with mosquitos, shower and toilet in the room, quite expensive "traditional local" restaurant downstairs. This hotel is the old and budget part of the Hotel Le Flamboyant.
* Hotel Le Flamboyant
on the other side of the street, which has a swimming pool (unfortunately not for guests of the Tourisme) and asks 16200/dbl and 13600/sgl, which should be a good price for the luxury you get.
- internet
: 2 internet cafes which are quite expensive at 1000 CFA per hour


Kedougou
- the town tours
: there are a lot of tourists around, most of them on bikes (see below). There is a very popular backpackers campement close to the waterwall from where you can make magnificent walks in the foothills of the Fouta Djalon.
- internet
: very expensive at 2500 CFA per hour
- bicycles
: Kedougou is (just like Gabu) a real bicycle centre, there are a plenty of bicycles shops and all bike parts are on sale. A new full option mountain bike costs around 70.000 CFA, about the same as in Gabu (See my
Guinea Bissau Travel Guide
for our experiences with buying a bike there).
- transport
: Kedougou – Tambacounda : 3500 CFA + 250 CFA luggage, the road runs right through the Niokolo Koba National Park so look out for wildlife, especially if you are passing through at sunset as we did. We saw through the bush taxi window : zebra, wild pig, varanas, deer, apes, birds and some kind of rhinoceros.


Tambacounda
- accommodation and hotels
: Chez Madame Desert, 4000 CFA (per person !), shower in hall, fan in room
- internet
: there is an internetcafe in the street of Madame Dessert, but 2000 CFA per hour is a bit expensive. There are probably cheaper places close to the market.


From Tambacounda into The Gambia
We took this road back to Banjul because we thought it would be nice to see The Gambia, even if it is only from the window of a bush taxi. Afterwards it was a bit of a mistake. As we did not intend to visit the inner country of The Gambia, going from Tambacounda to Kaolack and from there to Banjul would have been much quicker. The roads in Senegal are in much better condition and there are more frequent cars. The road through The Gambia is in bad condition and the flat landscape boring, especially if you just come from the Fouta Djalon. See my Gambia Travel Guide for more information on The Gambia.

- Tambacounda – Velingara : 2000 CFA + 250 CFA luggage for a place in a bush taxi, 2 hrs drive, there are not a lot of taxi's so you can have wait quite a bit if you are not lucky

- Velingara : as you arrive in the wrong bus station, you will have to pay 500 CFA for a taxi which brings you 3km further to the busstation specialised in Gambia

- Velingara (Senegal) – Basse Santa Su (Gambia) : 1000 CFA + 200 CFA luggage in a little jeep. Exceptionally this jeep or bush taxi will bring you all the way to Basse. If there are not enough people you can also pay 15000 CFA for a car on your own


Pictures from Senegal
See the Senegal photography gallery for photos, pictures and images.


More travel information on Africa