Travel to Sochi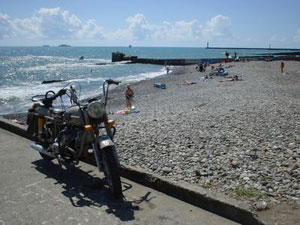 -
travel with ferry from Georgia to Sochi (Russia)
: I travelled with ferry from Batumi via Poti in Georgia, see
Travel guide Georgia
for more information about the ferry. The passport check on the Russian side went smoothly, although it was a lot of waiting due to the large number of passengers on the ferry.There was no baggage control. It is a good idea to ask to get your declaration form of how much money and valuables you are bringing in to Russa stamped to avoid future problems when leaving the country.
-
internet
: in the building opposite the trainstation there are two internet cafés, on the right hand side it costs 40 Rubel per hour. On the first floor, you find the stairs on the back side of the house, it costs 25 Rubel per hour.
- money exchange : in the Sberbank close to the station along the road going to the harbour you can exchange travellers cheques (they take Amex and probably also Thomas Cook) to as well Rubel as Dollar, but they will want to see your reciept. A commision of 3% was charged.

- hotel, hostel and accomodation in Sochi :
* Camelia Hotel : a very good choice, quite cheap rates and nice surroundings. Camelia Hotel is an old sanatorium situated in a beautiful park. It's divided in two parts and the rooms in the older part are cheaper, 185 Rubel per night. In the niewer building the rooms cost 385 Rubel per night. They have a licence to registrate Visas, it takes about 15 minutes and costs around 30 Rubel. Camelia Hotel is reachable directly from the trainstation by bus number 3M (Phone number : 990292).
* Homestay - bed and breakfast : the trainstation is full of old ladies who rent out rooms, a very nice way of getting to see a home and learn a bit of the customs from a local family. If you need to register your Visa but want to stay with a family you can still register your Visa at Hotel Camelia but for the price of one night stay, 185 Rubel.
- chocolate : you can find Toblerone on the big market square in Sochi, 25 Rubel for 100 gram. (Very important information for us Belgians who take chocolate seriously... you will know why I'm listing this once you've tried the Russian chocolate).
- Link : on Sochi Club there is lots of interesting information about Sochi.
- restaurants : Dalmasnoeie Kuchnje is situated opposite the park at the exit of the passenger terminal. They have tasty and cheap food especially the soups are delicious and freshly made.

- travel by ferry from Sochi :
* around Sochi itself : inflot@sochi.ru : has a number of small boats with which they offer short excursions around to the nearby sights.
* ferry from Sochi (Russia) to Trabzon (Turkey) : svs@sochi.ru : ferry running between Sochi in Russia and Trabzon in Turkey (Telephone number (8622)986922, 981479).
* ferry from Sochi (Russia) to Georgia : "Svetlov" leaves at 17:00, to Poti 1281.5 Rubel, to Batumi 1431.5 Rubel. The fast "Kometa" leaves at 13:00 to Poti 1550 Rubel, to Batumi 1600 Rubel. (Phone number 609655).
* ferry from Sochi (Russia) to Trabzon (Turkey) : Karden, (Telephone number : 609617), Apollonia (Telephone number : 609702, 620221).
* ferry from Sochi (Russia) to Istanbul (Turkey) : Kanyen, return 5080-5805 Rubel, one way 2785-3470 Rubel. Leaves on mondays and the trip takes 36 hours. (Phone number 609655, 609738).
* more information about ferries and cruise ships you can find in the Sochi harbour, (phone number 626004, 609800, 609700, 609603).
* boat from Sochi (Russia) to Ukraine : in the summer months there are boats going between Sochi and Yalta and Odessa in Ukraine.
- Travel by train From Sochi to Moscow : altough there is a very proper ticket sales cabin in the station, you better be careful with a few things. Because the ladies working in the station only speak Russian and are everything but helpful too ensure you that you get the cheapest and fastest ticket you are better off paying 100 Rubel more for booking your ticket via an agency. You will get the money back since they will try very hard to find you the cheapest but best second class place on the fastest train (not via Ukraine).
Be careful with the following things :
* travel with a train that go via Ukraine since then you need a Ukrainian transit visa.
* there are fast (26 hour) and slow (38 hour) trains.
* the tickets to the the fast train are sold at two different price levels, 1000 Rubel or 1500 Rubel, for seats that actually are equivalent in standard and in the same departement of the train. Make sure you get the cheaper ticket.
- travel with the train from Sochi to Vorkuta : there is a train straight from Sochi (Adler) to Vorkuta in north Russia. This ride from subtropical Sochi to arctic Vorkuta takes 90 hours (starting 16:34 lasting to five days later at 8:30am), 2100 Rubel. The train does not go via moscow, but instead it passes Rostov-Nizhy Novgorod-Vyatka. The tundra only starts about five hours before arrival in Vorkuta. The trains between Sochi and Vorkuta runs very frequently during the summer months since many North Russians flee their cold homelands for a bit of relaxation at the black sea.