Travel to Meknes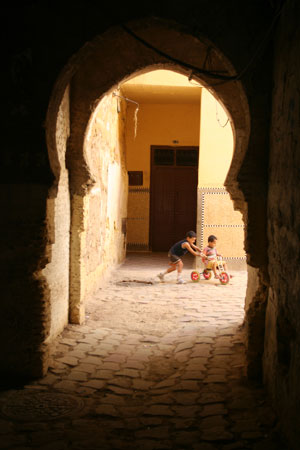 Meknes is often ranked as the third most important of the five imperial cities (after Fez and Marrakech) and I'm willing to agree. Compared to the first two I find Meknes a lot less interesting but it has still more to offer in terms of medina and old arcitecture than Rabat and Casablanca.
Moulay ismail's imperial city: you enter the old imperial city through the huge impressive gate Bab el-Mansour. The area is not very big and can easily be visited on foot.

Mausoleum of Moulay Ismail: beautiful, open to non muslims and free of charge makes this place well worth a visit. Non muslims can go as far as the first part of the sanctuary (though the shoes have to stay outside) which is beautifully tiled with a small fountain in the middle. The tomb itself is in the next room but can be seen through the valved opening in between.
Heri es-Souani and Agdal Basin: are the partly restored granaries of Molay Ismail. Admission 10 dirham.

Meknes medina: is quite small and cosy and also rather easy to find your way around in.

Dar Jamaî Museum: situated in the medina not far from the Place el-Hedim, the big square is an old palace now used for exhibiting traditional arts and crafts, admission 15 dirham.

Hotels and hostels in Meknes: there are quite a few reasonable priced cheapies in the medina, charging 60-100 dirham for a double room. Arrive early in high season. If you are looking for something more luxurious try Restaurant Riad, situated close to the Bab el-Mansour that has a few exclusive rooms or the beautifully restored Palais Didi situated on 7, Dar El Kbira.