Travel to Dali (Yunnan)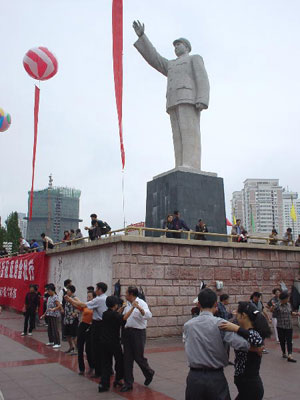 Sights, places of interest in Dali
: Dali is a little city with a few straight streets out of which the wide shopping street with old houses is the only really beautiful street. This street is crossed by a "western" street full of souvenir shops and stalls and western (including Korean and Japanese) restaurants, pubs and cafes with espresso, Guinness and Irish coffee and ambient music. Dali can be a relaxing stop in between being a very popular backpacker destination where you find cheap budget hotels and guest houses with free internet computer and washing machine as standard services. There are also a few pubs profiling themselves as book cafes where you can enjoy your cafe latte in a cosily decorated mini library with all sorts of english, spanish, german etc books. If you visit Dali in hope to see some Chinese culture you will be very disappointed, you should then better visit the beautiful and culturally and historically interesting
Lijiang
.
-Bicycle rental in Dali
: you can easily rent a bicycle in one of the 6 mountain bike rental places situated in the Dali bus street. It costs around 10 to 20 Yuan to rent a mountain bike for one day, no deposit needed.
Sights, places of interest around Dali
- Climbing the mountain with the cable lift : I didn't do this since the whole mountain was covered in clouds. I think that the mountain top is covered in clouds from April until the second half of October.
- By boat from Dali to the other side of the lake to the little village Wase : probably a very nice day trip.
-
Bicycle excursion
from Dali to the village
Xizhou
, is less romantic than what it looks like on the map since you have to cycle along the busy ( but quite safe )provincial road. Xizhou itself has a few nice houses worth to check out and October is a nice month to visit since it's harvest time for the rice with everyone busy on the fields hoping for dry weather and a good harvest.
* In
Xizhou
you can find nice and proper
accommodation
in the
Government Hotel
. The hotel is situated next to the temple (0872/2451311) and costs 100 Yuan for a double room with bathroom and WC. Travel agencies and groups seem to like this hotel which sets the standard.
* A cheaper hotel in Xizhou is the
Xizhou Binguan,
who charge 80 Yuan for a double room. It is a simple but very clean hotel with what I found a cozier atmosphere that the Government hotel.
Budget Hotels in Dali
- Most of the
Guesthouses
and budget hotels use a number instead of a name since there are so many to choose between so you will often hear - Don't forget number 10! very good!. Free internet and washing machine is included in the price in most of the budget guest houses and hotels. The beds differ in price depending on how many beds there are in the same room but also of the state of the bed linen. in the cheaper rooms for 10 yuan per night there are 5 beds but the sheets are oily and full of stains while in the 15 Yuan per night room there are 3-4 beds with white and clean daily changed sheets.
-
Number 4 Guesthouse
Budget Hotel
: dormitory (10 and 15 Yuan per night) not very clean with small Thai restaurant and cafe on a green patio. The biggest con of this hotel are the Chinese toilets with low boards between each toilet space and without doors which makes it hard to have a private moment. Also the showers are lacking doors. They do have free internet but the promised washing machine was nowhere to be found.
-
Number 5 Guesthouse Budget Hotel
: dormitories (15 en 20 Yuan) and a cozy Chinese restaurant with tasty food. They have free internet, washing machine and toilets with doors (a luxury in China !).
Travel by public transport from Dali
There are various ticket agencies who will bring you to the station by taxi if this is necessary ( this service is included in the ticket price).
- Travel from Dali to
Lijiang
, lots of transport to choose between, the busses leave every hour until 21:00, the trip from Dali to Lijiang lasts 3,5 hours.
- Travel from Dali to
Baoshan
, 6 busses per day, the trip takes about 5 hours.
- Travel from Dali to
Zhongdian
, 5 busses per day between 7 and 10.30, during the afternoon and evening there are no buses, 1 night bus. The trip takes 7 hours.