Travel to Krasnoyarsk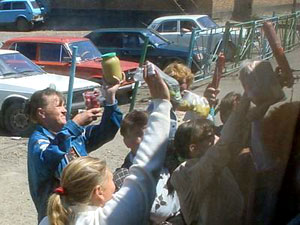 -
sights
: a relaxing boatride on the Yenisey to the dam sounds like a nice thing to do.
-
trips down the river Yernisey
: there are many trips available to Dudinka; 10 in June, 15 in July, 17 in August, 3 in October. 3185 Rubel/1st class (2 persons/cabin), 2150 Rubel/2de class (4 persons/cabin). There are boats until Karayl. Information in the River Port call (Telephone number : 274446). you can also go for a luxurious cruise with company Anton Chechov, (Telephone number : 3912-236731, fax 236567).
-
money, exchange
: in the main street of Krasnoyarsk there are several banks with very good rates and Cirrus/Bancontact cash points. there is also the possibility to change travellers cheques (vb Impekobank); 1$ = 31.45 Rubel, 1 Euro = 30.40 Rubel.
-
hotels, accomodation 1
: Mayk boat next to the Retsjnoey Vakzal has luxury suits for 450 Rubel, first class rooms 220/320 (single/double), second class in four bed dormitory 120Rubel/bed. The windows don't close well and the dock where the boat is moared is the exit of Krasnoyarsk and next door to the sailors bar where all sorts of more or less lost souls seem to hang out - and make lots of noice... I was longing for a real bed after all those nights in trains and boats and then a claustrofobic cabin in a boathotel just didn't seem like the best choice. -
hotels, accomodation 2
: Hotel Krasnoyarsstroystrategia, Prospekt Mira 12, entry at the side of the building; probably one of the best cheapies in Krastnoyarsk. They have seven singles for 225-242 Rubel/room and 23 doubles for 354-380 Rubel/room. The staff is friendly and it's clean, but also popular so it't better to book in advance during the summer (telephone number : 276911).
-
internet
: "Port", Surikova 1; 30 Rubel/hour.
-
public transport Krasnoyarsk - Abakan
: with train; a very very slow one, 10 hours on the way. There are direct lines by train from Abakan from Novosibirsk, Moskou, Bishkek (saturday only) and Adler/Sochi, which means that you don't have to stop in Krasnoyarsk if you actually want to go to Altai or Tuva. By taxi; only five hours drive on very good roads, certainly the fastest and most confortable way of getting there. 500 Rubel for 410km. By bus, 6,5 hours, the bus leaves in the morning and in the evening.
-
train from
Krasnoyarsk - Ulaan Ude
, train number 46, departs 21.03, arrives 1.11 (28 hours). 504 Rubel in platskartna. Unfortunately the train passes Baikal during the night so you will miss out on nice lake views. Also during the summer high season there is still a lot of space on the train. In Irkutsk there were no baboushkas with fresh food because of the late arrival time, nine in the evening but still quite a few little shops were still open.