Travel to Jaisalmer (Rajasthan)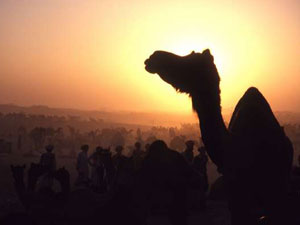 -
Budget hotels and cheap accommodation in Jaisalmer (Rajasthan)
: upon the arrival with the bus in Jaisalmer you immediately get attacked by representatives from the guest houses and hotels that all want to catch you and take you to their place. They keep trying to get the others away by shouting "don't listen to him, he's a tout !". Thanks to the big concurrence you can get a nice double room with shower and WC for 50-100 rupees, rooms in budget hotels inside the fort are more expensive and sometimes less clean. Nice and clean inside the fort is Hotel Victoria, next to Hotel Shimla, charging 350 rupees per double. We stayed in Hotel Henna, very clean rooms with a view on the fort and shower and WC for 50 rupees.
-
Internet cafes
: Jaisalmer has a few small internet cafes with sometimes terrible connection. The best place to surf on the internet was just next to the German Bakery (with very delicious brownies!), 20 rupees per hour.

- Exchanging money in Jaisalmer : travel agencies - exchange at a rate of 46.8 for 1 dollar, there is no cash point in Jaisalmer.

- Traveling by public transport from Jaisalmer to Jodhpur : the daily train (not necessary to make a place reservation) leaves at 7.15 in the morning and the ticket costs only 45 rupees. The train arrives in Jodhpur at 14:00, there is also a night train from Jaisalmer.

- camel safari : all travel agencies and budget hotels has the same tour program : jeep driving, camel riding, night spent in the"sand dunes" to a cost of 200-600 rupees. All camel tours seems to have more or less the same concept but do take care with which travel agency you choose to go. The best seems to be to go with a specialized travel agency (Sahara travels next to the main gate had very nice offers but make sure that Mr Desert (!? yes that is his name!) goes along as guide, the price was not higher than at any other place, 425 rupees). The reason to choose to go with a travel agency is that you then can make sure that you get an english speaking camel guide with who you can make your own agreements. If you book via a budget hotel, you will often end up with a guide that speaks no or very little english who is probably not very interested in changing his normal tour and do extras for the 100 rupees per camel that he gets.
Other points to think about when you choose a camel safari in Jaisalmer :
* your own camel
: the cheapest tours could mean that you end up behind the guide on his camel. Do say that you want to have your own camel and that you want to steer it your self. Since I did not know this I ended up on a young camel that was tightly attached with a rope to the camels of the two chatting camel boys / guides. I was sitting there listening to their (for me incomprehensible) chatting while my foot cleaned the ass of one of their camels.
* Food
: if you book via a budget hotel you get driven over by jeep to the place where the camel guides are waiting. Together with yourself a packet of food is also delivered to the camel guides. The contents of this packet is apparently the main difference between the price categories of the tours. In the more expensive tour you get a few extra pieces of fruit and veg and also a bag of crisps. It seems to me better to choose for the cheaper tour of 300 rupees per day rather than the more expensive 600 rupees per day for a few pieces of fruit and just make a visit yourself to the market and buy everything that you like.
* Sand dunes
: there are the "touristy"-Sam sand dunes, surrounded by souvenir shops but also very big or the "non-touristy" sand dunes, that are a lot smaller but also more quiet. At the agency you can also let them know if you prefer to visit a part of the desert with purely sand or if you want to see desert landscape with cactuses and bushes.
* blankets
: it is cold during the night in the desert so if you book via a hotel do bring extra blankets along from the hotel, the rented camel guides normally don't bring any extra. If you book via an agency you should of course also make sure that they bring enough blankets.
* Camel friends
: prices depend on the size of the group. Most agencies will tell you that they already have people booked for the next day which is often not true and if you then still want to go you have to pay more per person. It's better to search for people who would like to do a camel safari and put together a group your selves.